Packing and Boxes Waterloo SE1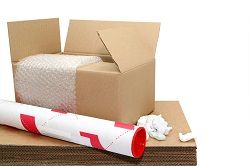 How to Pack Your Moving Boxes with Care
Step One: Collect Packing Materials

Our Man with Van Waterloo removal boxes are available in a variety of sizes, shapes, and materials. We have made sure that we offer a wide range so that you can select the one which fits best with your moving needs. Whatever box size you select they all feature durable construction and superior strength ideal for protecting your possessions. However, it's always advisable to buy some more packing supplies such as packing paper, bubble wrap, shrink-wrap, and packing tape than what you think might be necessary. This way you can pack efficiently without any last-minute urgency or stress. Alternatively our expert packers will make sure there is enough material to pack a complete house or flat in the most efficient manner.

Step Two: Start Packing

Now that you have all of your packing materials ready, it's time to start packing properly. You can either start off by packing all the nonessentials first or fill up each room one by one. Whatever strategy you choose make sure that you label each box correctly and clearly on the outside - this way at unpacking time it is easy to identify the right box for each room or item of furniture. We provide unique color coding along with helpful labels to make both loading and unloading completely effortless. Then start filling up your Man with Van Waterloo moving boxes by wrapping breakable items very carefully with enough wrappings before placing them inside in an upright position. Additionally adding cushioning layers between packed items helps reduce the chance of any transits damage due to movement within the box mid journey - Bubble Wrap is often best for this job!

Step Three: Finishing Up

Once your boxes are filled up securely, take extra precautions when sealing them shut by using strong adhesive packing tapes - these are specified for use on our boxes and provide long lasting protection against any dust or water ingress during transit. Additionally fill up any extra space with crushed newspaper, Foam chips (or even popcorn for fragile items) so that your precious belongings don't have any unnecessary jostling during transit. If you're feeling extra keen secure each side of the box from top to bottom with duct tape or similar; this adds an extra layer of security during transit and helps prevent denting or bending which could occur when heavy loads bear down on the sides of your box in transit. Lastly don't forget to add a contact telephone number -

- so that if there is an unforseen delay our efficient call handlers can update you should there be an emergency

If you need any help with packing for your big move then our team are highly experienced professionals who specialize in making sure everything is securely wrapped and packed tightly into our tailor made SW1 boxes perfect for all removal purposes - from storing to shipping abroad or simply across town!